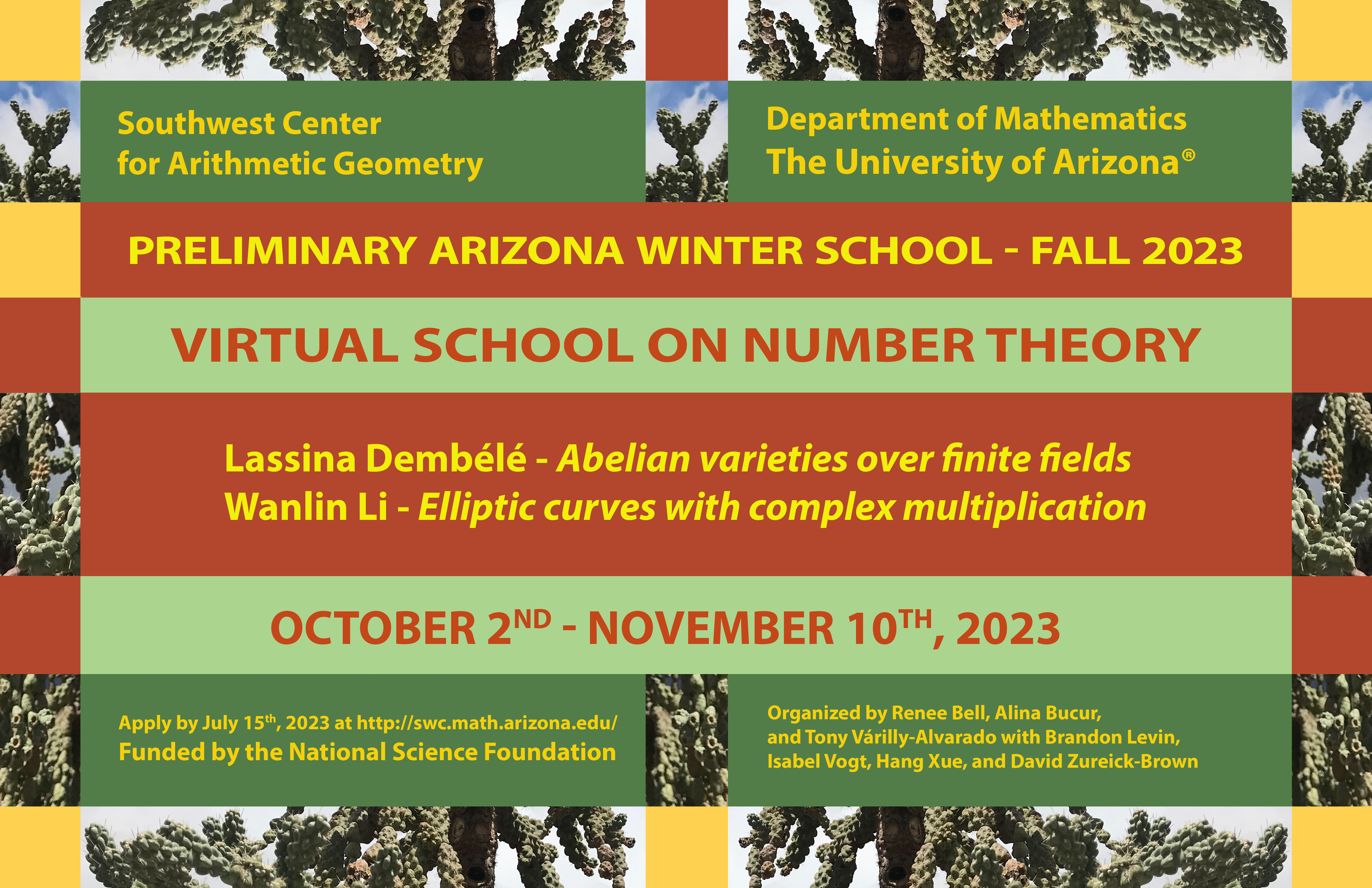 Preliminary Arizona Winter School 2023: Elliptic Curves and Abelian Varieties
The Preliminary Arizona Winter School (PAWS) is a virtual program on topics related to the upcoming AWS, with an intended audience of advanced undergraduate students and junior graduate students.

Registration
: You can apply for the program
here
. The deadline to apply is July 15th, 2023.
Each lecturer will be accompanied by graduate student assistants, who will be in charge of writing weekly problem sets and facilitating weekly, hour-long problem solving and discussion meetings with groups of students. Recommended background for the program is a first course in abstract algebra.
The school will feature an online (Zulip) discussion board where students can ask questions and interact with the speakers and assistants outside of scheduled meeting times.
We will facilitate additional virtual events, some purely social to build a community, and some more structured sessions on timely and pertinent topics like "What is graduate school in Math like?", "Tips for applying to graduate school this Fall," "How do I navigate the first year of graduate school?" "How do I look for an thesis advisor?", "How to get the most out of the upcoming AWS."
We encourage undergraduate students to take their PAWS course as an independent study with a faculty member at their home institution.
Organizers: Renee Bell, Alina Bucur, and Anthony V&aacuterilly-Alvarado (main organizers), with Brandon Levin, Hang Xue, Isabel Vogt, and David Zureick-Brown.
Funded by the National Science Foundation.
October 2rd — November 10th, 2023
PAWS 2023 consists of two concurrent six-week lecture series.
Abelian varieties which are higher dimensional analogues of elliptic curves are important objects in arithmetic geometry and number theory. For example, abelian varieties defined by equations over the rational numbers pose interesting arithmetic problems concerning their rational points. To understand these abelian varieties over Q, a key tool is to reduce them modulo primes numbers and study the resulting abelian varieties over finite fields. The aim of this course is to provide an introduction to the theory of abelian varieties over finite fields.

If the endomorphism ring of an elliptic curve contains an order of a quadratic imaginary field, we say this elliptic curve has complex multiplication. Elliptic curves with complex multiplication have many special properties and are of great importance in the research of number theory and arithmetic geometry. The theory of complex multiplication played a crucial rule in the class field theory of imaginary quadratic fields. Moreover, the theory of complex multiplication is in the center of current research on L-functions, Galois representations, and Shimura varieties. In this course, we will start with the complex theory of elliptic curves and the definition of complex multiplication. We will discuss class field theory of imaginary quadratic fields; the L-functions and Galois representations of CM elliptic curves; the modular curve and the CM points on them; the Shimura-–Taniyama theorem and the use of CM elliptic curves in the proof of Elkies' theorem.