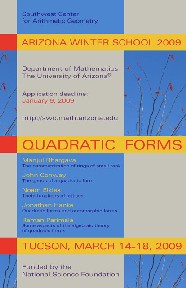 Arizona Winter School 2009: Quadratic Forms
The 2009 Arizona Winter School was held from March 14-18, 2009 at the University of Arizona in Tucson, AZ.
Organizers: Fernando Rodriguez-Villegas and David Savitt (main program); Matt Papanikolas, William Stein, Dinesh Thakur (other)
Courses
The video below may be viewed with many video players. We recommend VLC, which is free and works on Windows, OS X, and Linux.