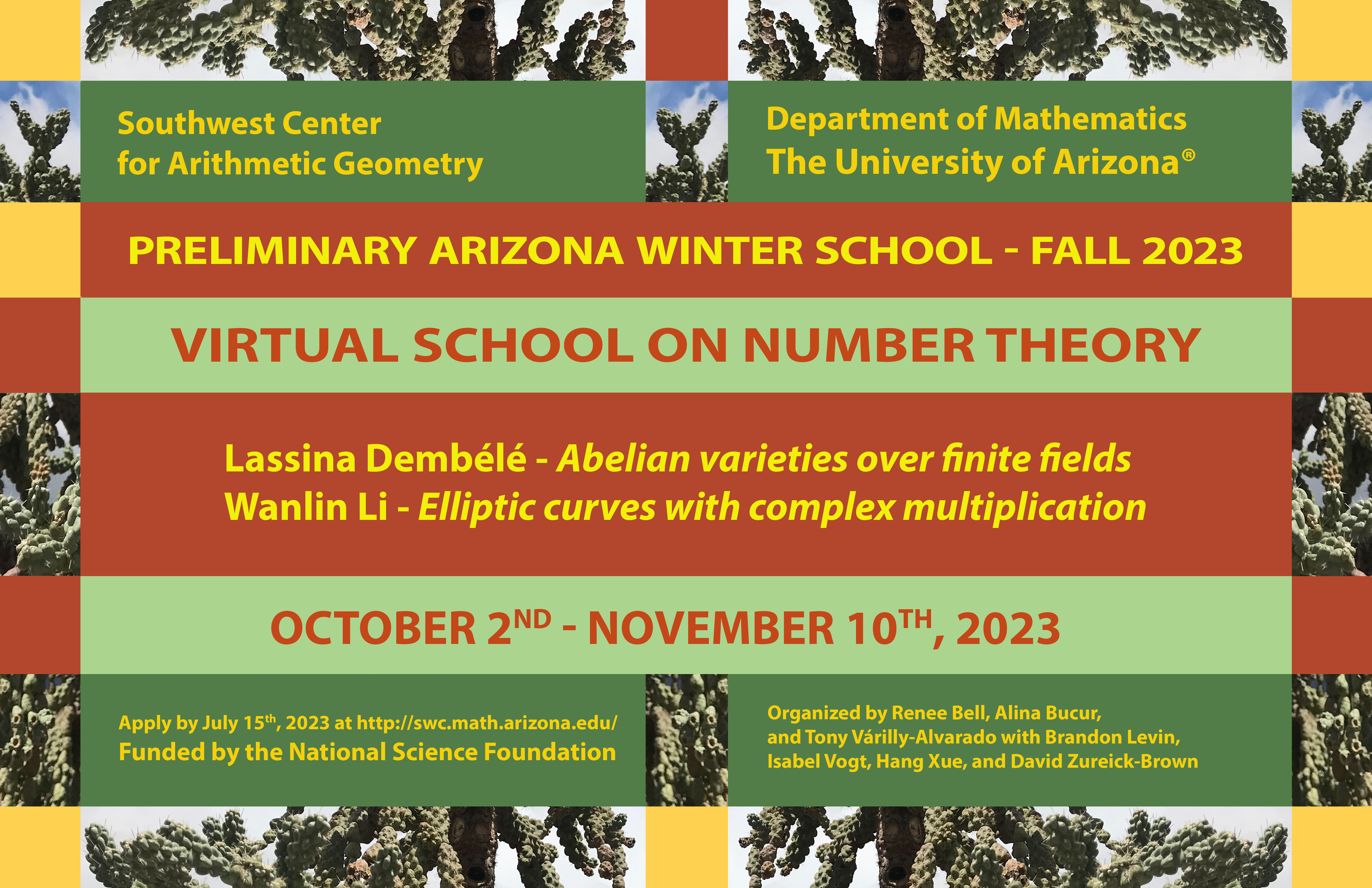 Preliminary Arizona Winter School 2023: Elliptic Curves and Abelian Varieties
Registration
: You can apply for the program
here
. The deadline to apply is July 15th, 2023.
The Preliminary Arizona Winter School (PAWS) is a virtual program on topics related to the upcoming AWS, with an intended audience of advanced undergraduate students and junior graduate students.

PAWS 2023 will be held October 2rd — November 10th, 2023 and will consist of two concurrent six-week lecture series.
Abelian varieties which are higher dimensional analogues of elliptic curves are important objects in arithmetic geometry and number theory. For example, abelian varieties defined by equations over the rational numbers pose interesting arithmetic problems concerning their rational points. To understand these abelian varieties over Q, a key tool is to reduce them modulo primes numbers and study the resulting abelian varieties over finite fields. The aim of this course is to provide an introduction to the theory of abelian varieties over finite fields.

If the endomorphism ring of an elliptic curve contains an order of a quadratic imaginary field, we say this elliptic curve has complex multiplication. Elliptic curves with complex multiplication have many special properties and are of great importance in the research of number theory and arithmetic geometry. The theory of complex multiplication played a crucial rule in the class field theory of imaginary quadratic fields. Moreover, the theory of complex multiplication is in the center of current research on L-functions, Galois representations, and Shimura varieties. In this course, we will start with the complex theory of elliptic curves and the definition of complex multiplication. We will discuss class field theory of imaginary quadratic fields; the L-functions and Galois representations of CM elliptic curves; the modular curve and the CM points on them; the Shimura-–Taniyama theorem and the use of CM elliptic curves in the proof of Elkies' theorem.
For
more information
go
here
.
Organizers: Renee Bell, Alina Bucur, and Anthony V&aacuterilly-Alvarado (main organizers), with Brandon Levin, Hang Xue, Isabel Vogt, and David Zureick-Brown.


Funded by the National Science Foundation.
Standard Cloud hosting for online discussions sponsored by Zulip.
---
Arizona Winter School 2024: Abelian Varieties
AWS 2024 will be held March 2-6, 2024 at the University of Arizona in Tucson, AZ.
Registration will open mid-September and will close on November 15th.

For more information go here.
Courses:
Organizers: Isabel Vogt, Hang Xue, David Zureick-Brown (main program) with Alina Bucur, Brandon Levin, and Anthony V&aacuterilly-Alvarado.
Funded by the
National Science Foundation
, supported by the
National Security Agency,
and organized in partnership with the
Clay Mathematics Institute
. Standard Cloud hosting for online discussions sponsored by
Zulip
.